Support Officer Robert Jackson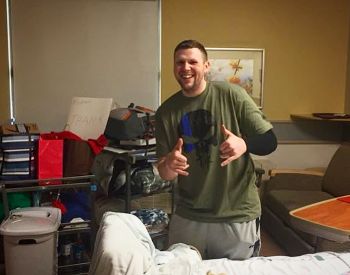 Please donate and share with others who may want to assist Officer Robert Jackson, an officer who risked his own life to help another. We've been trying to fundraise within our community to show our support, but with little success. We need your help.
On April 5th, officers responded to a report of a man who had doused himself in gasoline. They arrived to find him holding a lighter and attempted to de-escalate the situation, speaking to him and offering help. When that failed, Officer Robert Jackson courageously attempted to take the lighter, jeopardizing his safety as the man managed to ignite it. Officer Jackson received extensive burns on his legs and calves that require surgery and his left arm was burned from his wrist to his shoulder.
He will spend two weeks at the University Hospital burn unit. Recently married and with a baby on the way, these injuries are a hardship to his family. Any donations and support you can provide to this hero are greatly appreciated during this trying time.
Donations can be made here.
A share on social media or forwarded email will also go a long way.
"My job is to protect lives," said Officer Jackson. "And if I have to risk mine to save somebody else, I'm going to do that."